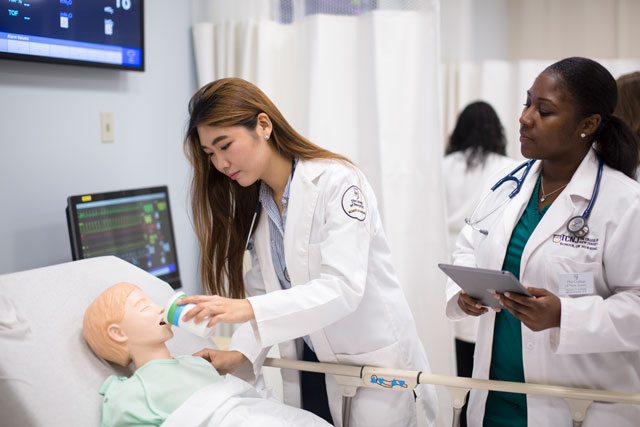 The College of New Jersey extends a Lion-sized thank-you to the 4,586 alumni and friends whose generous support made the 2021 academic year a fundraising record setter. Between July 1, 2020, and June 30, 2021, donors gifted $20,061,723 to the college in support of its mission to ensure that a rigorous education, an inclusive community, and rich experiences remain accessible for generations of learners to come.
"That so many would give so much in spite of the hardships and disruptions caused by the pandemic speaks volumes about our community," said President Kathryn A. Foster. "We are incredibly grateful to all who continue to support this institution and its essential mission."
This year's total shatters the previous record of $15.6 million set in 2015 during The Campaign for TCNJ, a five-year, comprehensive fundraising effort. It includes the largest-ever unrestricted gift from an individual, a $5 million anonymous gift that the college will use to foster academic innovation, further its commitment to the neighboring communities, and improve facilities for student-athletes.
Donors also came out in record numbers during the Sixth Annual Day of Giving, a 24-hour period in March during which over 2,000 donors contributed more than $364,000 in support of initiatives across the campus and in all seven schools.
Other fundraising highlights include:
A sizable estate gift from Harold '40 and Lois Winterhalter that will benefit two major college initiatives: The renovation of Roscoe West Hall to create an Inclusive Excellence Suite, and the completion and updating of "the loop," the popular campus walking/jogging path. The suite will house a new Intercultural Center, the Accessibility Resource Center, and other student-focused resources. The loop project will include construction of the missing segments of the path near the campus' lakes and across from the community garden near the softball field.
A gift from Jim Lafkas '56, included in his estate plans, will create an endowment to support new programming within the Department of Nursing.
New endowed scholarships for outstanding School of Education undergraduates, as well as funding to support equipment and facility needs in the school. Both are possible thanks to the estate of H. Karl Neidlein.
A gift from Jonathan J. and Barbara Belding (both members of the Class of 1972) that will fund half of the tuition cost for three School of Engineering students for four years.
A grant from the Sherman Fairchild Foundation that will for the next three years provide support for 15 rising sophomores from underserved communities who are pursuing majors in laboratory and field-based sciences, allowing them to participate in TCNJ's research-oriented Mentored Undergraduate Summer Experience.
Funds raised by the college are stewarded by the TCNJ Foundation, which is overseen by an all-volunteer Board of Directors.
"Our success could not be possible without the talent, leadership and dedication of our board members," said John P. Donohue, vice president and executive director of the TCNJ Foundation. "They freely give their time and expertise to ensure these funds are invested and managed properly and we're grateful for their contributions."
Learn more about supporting TCNJ.
---
—Luke Sacks