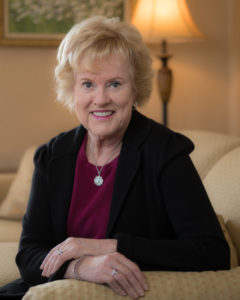 Students from the School of Business returned from winter break to a newly renovated lounge that features new furniture, flooring, and refreshed terrace landscaping. The renovations were made possible by Martha Ferguson '69, who generously donated $50,000 in honor of the 50th anniversary of her graduation from Trenton State College.
"I hope the students use the lounge as an area to exchange ideas," Ferguson says. "Isn't that what Microsoft and Google encourage in their workplaces?"
The room also features enhanced functionality, including study carrels, flexible seating options, and a brighter space to accommodate student-run events.
A mathematics major, Ferguson was able to parlay her skill with numbers into a variety of successful career paths, including time as a teacher, accountant, comptroller, and philanthropist.
By her side for the past 50 years has been her partner, Rod, whom she met during her freshman year. Ferguson's gift was also a nod to Rod's passion for business, as well as her brother's professional endeavors.
"I chose the School of Business because Rod studied business at the University of Michigan," she says. "Also, my brother Tom went to Trenton State. He graduated and taught shop for a few years before leaving to work for Ingersoll Rand before eventually creating his own company. I am thankful that I had the chance to go to Trenton State College. I can't imagine what my life would be like if I hadn't met my partner of 50 years who came from a family with the same values as mine."
— David Pavlak