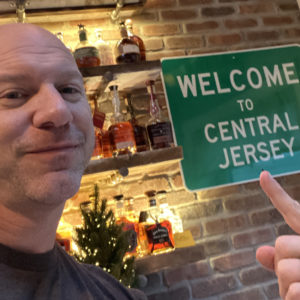 Greg Bellotti '92 so fervently believes he resides in central New Jersey that he put his money where his mouth is.
In January, an unofficial "Welcome to Central Jersey" sign mysteriously appeared roadside on Route 33 in Millstone — the first of a few that began to pop up around town. The green-and-white declaration was the latest shot across the bow in the decades-long Bellotti family debate in which Greg is now even more heavily invested.
The playful New Jersey demarcation discussion, which sparks passionate responses from fellow New Jerseyans depending on geographic identity, has been raging on in the Bellotti household for 25 years. Mary and Christine Bellotti '96, Greg's sisters, believe that the state is divided in two: north and south. Greg contends there is an indisputable central area located between the Raritan River and Interstate 195.
Bellotti says that the debate began when his sisters used a specific phrase to describe where he lived.
"The 'northerners' had to trek to 'south Jersey,' also known as my home," he says. Bellotti currently lives in Monmouth County.
To prove central New Jersey exists, Bellotti and a group of friends sat down to devise a plan that would literally show his sisters the proof.
The welcome signs, which Bellotti purchased but has denied installing, were conspicuously placed in a location that he knew his family traveled frequently. The Department of Transportation ultimately removed the signs soon after they were installed, but not before the exploits garnered interest from the local media.
"I was sending my sisters the news stories and pictures without divulging I was partly responsible," he says. "That was extremely enjoyable."
The media attention prompted Bellotti to purchase welcometocentraljersey.com, where he plans to sell the remainder of the signs with the proceeds going to charity. The most requested item, according to Bellotti, is a sign autographed by Christine inscribed with "My brother is insane."
"This has been a lot of fun and created some good-hearted demand," he says. "If we can generate some profit and donate to worthy causes, the story will be worth it."
— David Pavlak, with reporting by Nina Navazio '21