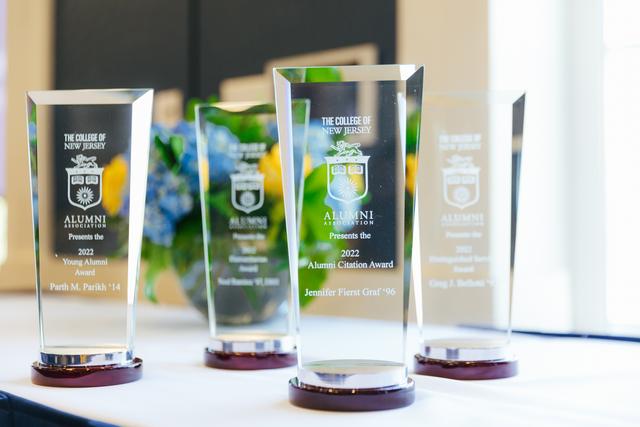 The TCNJ Alumni Association Board invites the college community to submit nominations for the Alumni Leadership Awards. Individuals being nominated should have made a lasting impact on TCNJ or society through outstanding professional, philanthropic, or volunteer accomplishments.
"The Alumni Leadership awards showcase our alumni for their exemplary service and commitment to their communities," said Angelica Cardona '08, board president. "The fact that recipients are nominated by their fellow alums is truly special and I look forward to presenting these awards in the spring at Alumni Weekend!"
All nominees are reviewed by the board's alumni awards committee. The 2024 award ceremony will take place at an awards ceremony in the R. Barbara Gitenstein library during Alumni Weekend on Saturday, April 20, 2024.
Distinguished Alumni Award
Conferred continuously since 1940, the Distinguished Alumni Award (previously the Alumni Citation Award) is the premier award given by the TCNJ Alumni Association. It is granted to a living alumnus or alumna who:
has achieved exceptional success in work and/or community;
has demonstrated a sustained association with the college;
graduated 15 or more years prior to nomination
Alumni Service Award
First given in 1998, this award (previously the Distinguished Service Award) recognizes an individual who has provided exceptional service to the college, his/her class, the TCNJ Alumni Association, and/or the college's students.
Humanitarian Award
First given in 2001, recognizes an alumnus or alumna who has shown exceptional public-spiritedness or concern for human welfare through philanthropic activities.
Young Alumni Award
The newest of the four awards, this award recognizes an alumnus or alumna of the last 10 years whose professional accomplishments, dedication to alma mater, and/or service to society are distinctive.
Use this form to submit a nomination online.
---