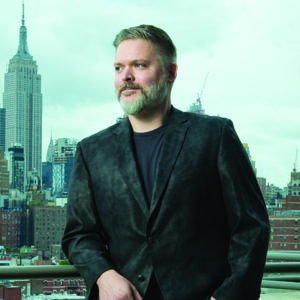 Time goes by quickly when you're absorbed in your smartphone. But Tom Gebauer '07, an interaction designer at Google NYC, had a far more expansive sense of time in mind as design lead on a mobile version of Google Earth Timelapse that was released in April.
An interactive video map, Timelapse lets you watch how the earth's surface has changed over more than three decades, whether it be the urban expansion of Las Vegas or the retreat of Alaska's Columbia Glacier. It seamlessly stitches together more than 15 million satellite images organized by year from 1984 through 2018.
For Gebauer, making Timelapse mobile was a "20% project." Googlers spend 20% of their time on side ventures within the company that interest them. "I've always been interested in maps since I was a kid," says Gebauer. "This was an irresistible challenge for me to take on."
He has perfected a way to describe his work to non-Googlers. "I tell them I make the apps they touch on their phone and the interfaces they click on at their computers intuitive, inviting, and most importantly, useful," Gebauer says. Before this year, Timelapse, launched in 2013, couldn't be viewed on a mobile device. "The user interface didn't exist, so I was responsible for designing the UI from scratch," Gebauer says. "Every part was optimized for mobile web, including the timeline feature, which lets users simply swipe back and forth between dates. My design should make it feel approachable and easy to explore."
His other responsibilities at Google include managing a team that designs the human interfaces for tools that let Google's advertisers analyze trillions of data points to better target ad placements. He also spends time on Google for Startups, working to help businesses "completely outside my wheelhouse" solve problems. Recent projects include creating systems and tools to help skilled veterans transitioning into civilian life and tweaking the design of a Brazilian meal-tracking app to improve customer engagement.
"This keeps me on my toes and helps illuminate what the next billion internet users expect from the products they use," Gebauer says.
We asked Gebauer to "Timelapse" his years at TCNJ and tell us what the millions of his neural images during college would reveal. "It's wild to think about my time at TCNJ from this perspective," he says. He imagines there'd be a Timelapse of professors critiquing his work and him realizing that his work is good, but could always be better. "And maybe me hustling around campus while working with people who are now some of my best friends."
—John Martin, TCNJ Magazine